In Cart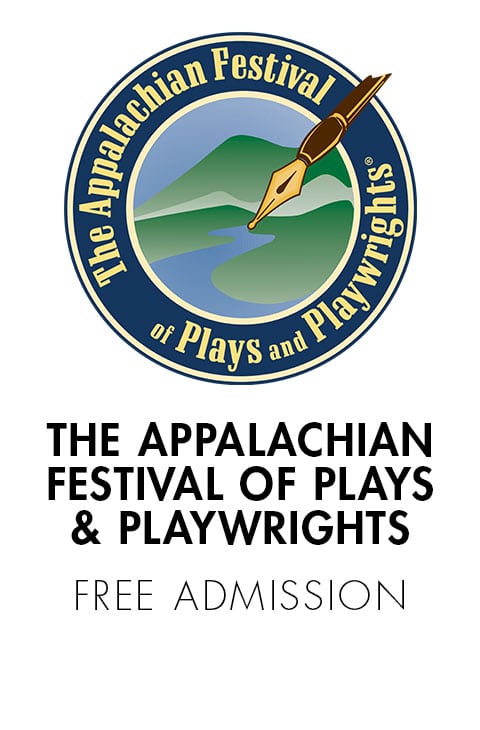 Wheelchair Accessibility These shows can accommidate several wheelchair seating locations.
Hearing Assistance allows our patrons to watch our plays without the need for audio enhancement
Talkback
January 23
through
February 6
Venue/Stage
Remaining
Content
Appalachian Festival of Plays & Playwrights
Appalachian Festival of Plays and Playwrights 2021 - Online!
AFPP 2021 will be held online and over the span of two weeks starting January 26th, 2021.
The recording of each play will be made available starting at noon on the day of its premiere, participants are invited to attend a panel discussion via Zoom at 8pm on the same evening.

Patsy Armstrong is a coal miner. Just like her daddy, Earl. And just like her mother, Wanda, who was one of the first women ever hired underground in a union mine and, at 60 years old, is still there. As of this week, Patsy's back in her mother and daddy's house, after a mining accident that left her with no ability to move or communicate. Her bright 18-year old daughter, Livvy, now lives there too. In a home that's full of humor and generosity and rowdiness and grit. But a home—not to mention a whole dang planet—that's under more pressure than maybe it's ever been. When the family gets news about the settlement from Patsy's accident, Livvy jumps into the fray. And Patsy, now forced to listen and observe more than she ever did as a healthy person, is plagued by nightmares and revelations she's able to share only with us. It doesn't take long for her to realize she has to learn a new way of being if she's gonna save her entire world.
Daryl Lisa Fazio is a playwright, actor, and theatre graphic designer based in Atlanta, Georgia. Off-Broadway: POPart: The Musical (New York Musical Theatre Festival); Greyhounds (American Theatre of Actors & Theatre Row). Regional: Safety Net, Theatrical Outfit and Penobscot Theatre productions, Alliance Theatre Reiser Artists Lab winner, O'Neill finalist; The Flower Room, Actor's Express world premiere; Split in Three, Aurora Theatre, Florida Rep world premiere; Freed Spirits, Horizon Theatre commission and world premiere. Her musical, lift (with composer Aaron McAllister), was chosen for the NAMT Festival of New Musicals in New York City, as well as being developed at the York Theatre and Coastal Carolina University. BA Theatre: Northwestern University. MFA Graphic Design: University of Memphis. Daryl hails originally from Mississippi, and her commitment is to writing complex and challenging roles for women of all ages, races, and classes, often with a focus on the Deep South.

Bell and Roe live in a post-apocalyptic wasteland that is so far gone they don't even remember a time when there were grocery stores, safe drinking water, or 911. They each live in isolation, until they happen to meet. Bell shows Roe a game: take off your mask and see if you can breathe. Try this vegetable, and see if you wake up. Do more than just not-die. Bell may also have ulterior motives. Roe's shelter is stocked with years worth of canned goods and other priceless resources. Is their friendship true–or just another game?
Brandy N. Carie is a playwright, screenwriter, and stage director who writes about women, werewolves (and other canines), whiskey, pirates, and doomsday preppers. Carie was a winner of the SLOAN/CMU Screenwriting Competition, the Kennedy Center National Student Playwritng Award, and a finalist for the Princess Grace award. She has received residencies at SPACE on Ryder Farm, the Edward Albee Foundation, and the National Winter Playwrights Retreat. Her plays have been developed at Actors Theatre of Louisville, Pittsburgh's City Theatre, Mildred's Umbrella Theatre, the Kennedy Center, and Northlight Theatre, and produced by Houston's Collective 48, Blunt Objects Theatre, and Everyday Inferno Theater. Her immersive storage container mini-opera was produced by the Off-Book Club with Bricolage Production Company. Directing credits include the world premiere of Languagemachine by Lauren D'Errico and the Shakespeare parody audio play MacBADth for the pilot episode of the ICKIpedia podcast. Carie is currently developing a seven-play Bunker Cycle about American survivalists and doomsday preppers. She also runs a feminist horror film review site, Brutal 'N Scary with Brandy N. Carie, at brutalnscary.com. Carnegie Mellon Dramatic Writing MFA 2020. Find her at brandyncarie.com.

A Part of Barter's Black In Appalachia Initiative This initiative was founded to develop and support Black Appalachian Playwrights.
In Apex, Alabama, a black woman and a white man, working together at the country's largest retail chain form a bond that intensifies into a passionate and dangerous relationship.  City Limits touches on racial disparity, mental illness, and the soul's desperate desire for freedom.
Quinton Cockrell is a native of Birmingham, Alabama. He received a BFA from Birmingham-Southern College and an MFA from The Alabama Shakespeare Festival's Professional Actor Training Program. He has worked with numerous theatre companies throughout the United States, including Riverside Shakespeare Company, Westbeth Theatre, Soho Rep, The John Houseman Theatre, Playwright's Horizons, Orlando Shakespeare Theatre, Studio Arena Theatre, Heritage Repertory Company, Birmingham Children's Theatre, and City Equity Theatre. Quinton is a recipient of the Alabama State Council on the Arts Fellowship in playwriting for his plays Low Life and Shot House (which premiered in Paris at L'Ogresse Theatre in July 2007.) His play Chaos Is Come Again was selected as a finalist in Oregon Shakespeare's Ashland New Play Festival in 2018. In 2009, he joined the Troy University Department of Theatre and Dance. He is a five-time recipient of the Kennedy Center American College Theatre Festival Meritorious Achievement Award for Excellence in Directing.

In a mountain town split into remnants of Appalachia's past and glimmers of its future, a lottery is announced. Ticket rates: standard. The prize: the chance to speak with God. The devout think it's sacrilege and the skeptics are sure it's a hoax and no one's certain exactly what God needs money for, but in the chance that there's truth to it, who'd say no to a miracle? A magical-realist new play with the music of church and shaky violins and family dinners, If God Came a Callin dives into the holy and the familial and all the restless in-between.
Madison Fiedler is a playwright from Asheville, North Carolina. Plays include Spay (2020 Kilroys List, delayed 2020 world premiere at Rivendell Theatre Ensemble, Florida Rep PlayLab 2020, 2019 National Showcase of New Plays, 2018-2019 BoHo Theatre commission), The Incubators (Athena Project semi-finalist), Exalted (New York Theater Festival, IRT Theater, Vertigo Productions), and I Talk to the Flowers (Skidmore College, University of Kentucky), among others. She is a National New Play Network Affiliated Artist and a 2021 Sewanee Writers' Conference Playwriting Scholar. BA: Northwestern University (2019). She currently lives in Brooklyn.
AFPP Workshops are free and will be conducted via Zoom. Space is limited and pre-registration is required.
Workshop: College Playwrights
Ever dreamed of writing a play?  Catherine Bush, Barter Theatre's Playwright in Residence will be offering a workshop that will cover everything from playwriting fundamentals, to adapting existing works, to writing musicals.  She will also offer practical advice about a career in playwriting.  Come benefit from Catherine's years of experience in the theatre industry!
View Event to Register
Workshop: Weaving Memory Into Story
Sponsored by Barter Theatre's Black in Appalachia Initiative
In an effort to develop and support Black Appalachian playwrights, Barter Theatre is offering a free workshop to anyone in the Black community who has a story they'd like to tell. Led by Patrice Foster, MFA, this workshop will focus on content building by using memory-gathering exercises. From there, Barter's playwright-in-residence Catherine Bush will illustrate how to create dramatic structure using this content.
View Event to Register
This annual festival celebrates the richness of the Appalachian tradition by showcasing the stories of the region, both past and present, and the inspiration it provides the writers who live here.
Since 1933, Barter Theatre has been developing new works and nurturing area talent. The AFPP has gained national attention by developing a process that has resulted in new plays being produced not only on Barter's stages, but in regional theatres across the country.

In an effort to give voice to the more diverse stories of our region, Barter is committed to presenting at least one play written by a Black Appalachian playwright at each annual Appalachian Festival of Plays and Playwrights. We intend this to be a first step in ensuring that ALL Appalachians will be represented on our stages.
The Appalachian Festival of Plays and Playwrights is made possible by the generous support of Bert Bach along with Henry and Flora Joy.
Events are FREE and start Jan 26.
ACCESS AFPP NOW
TUESDAY, JANUARY 26TH 
MOUNTAIN MAMAS by Daryl Lisa Fazio
12pm Premiere | 8pm Panel Discussion
THURSDAY, JANUARY 28TH
TOMORROW GAME by Brandy N. Carie
12pm Premiere | 8pm Panel Discussion
SATURDAY, JANUARY 30TH
WORKSHOP: COLLEGE PLAYWRIGHTS
11am - 1pm | Registration Required
TUESDAY, FEBRUARY 2ND
 The inaugural reading of Barter's Black In Appalachia Initiative
CITY LIMITS by Quinton Cockrell
12pm Premiere | 8pm Panel Discussion
THURSDAY, FEBRUARY 4TH
IF GOD CAME A CALLIN by Madison Fiedler
12pm Premiere | 8pm Panel Discussion
SATURDAY, FEBRUARY 6TH
WORKSHOP: WEAVING MEMORY INTO STORY
11am - 2pm | Registration Required
Ticket Added!
Add another or click here to continue.
Tickets Added to Cart
Select Your Seats