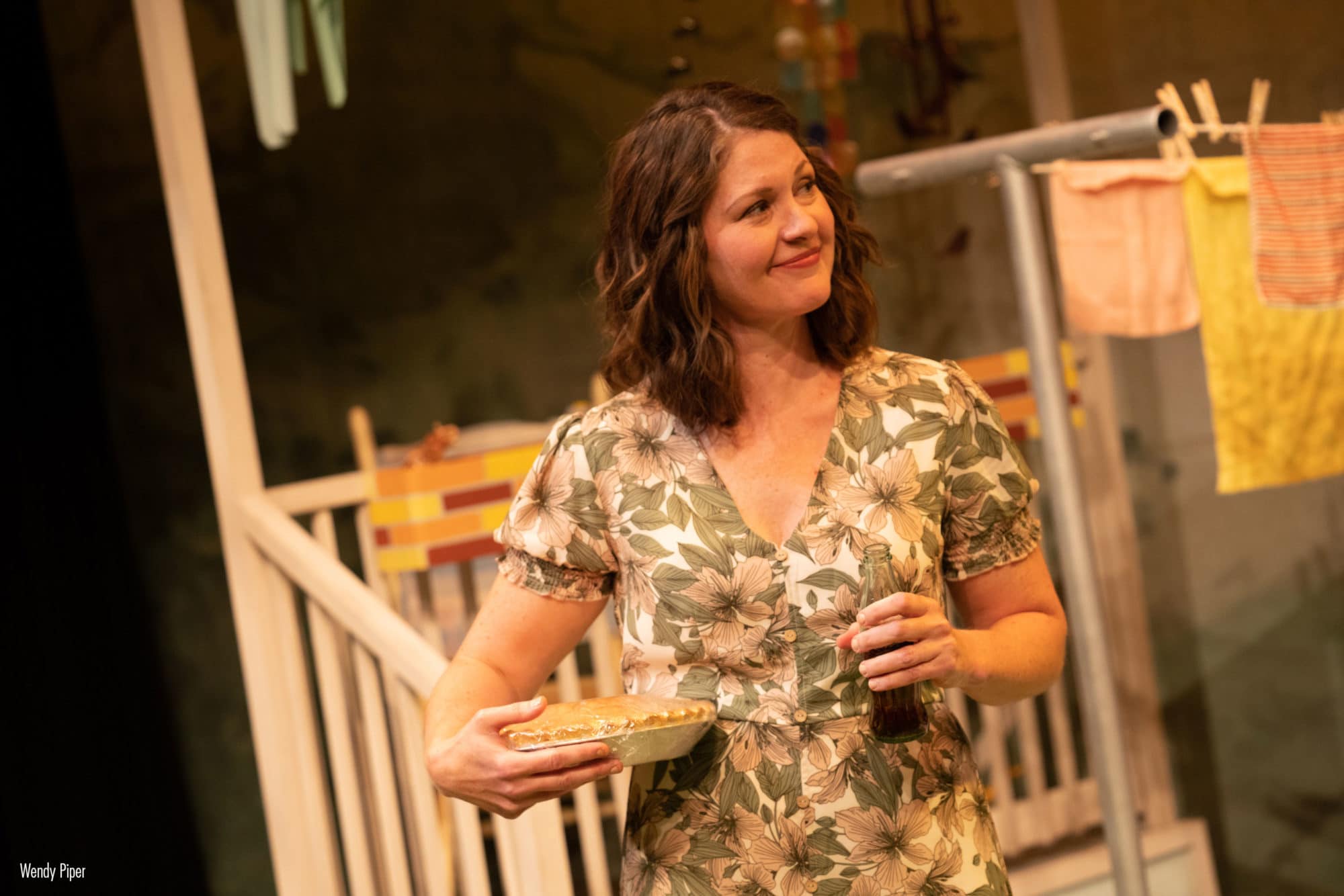 A Review by Bonny Gable
August 31, 2019
The brand "Maytag" has long been associated with dependability and strength. A Maytag is a workhorse built to last that will never betray you. The only sadness it generates is for its lonely repairman who never has a job. It makes life easier by lightening some of the load, and not just of laundry. What might such a trademark mean to someone who feels they've lost everything, that the dearest things in life are fragile and fleeting? Could it inspire the courage to trust again, to enter into the warm, steamy and messy toss-about of falling in love? Audrey Cefaly's Maytag Virgin, now playing at Barter Theatre, explores that unique possibility.
Cefaly has created what first appears a charming story of two likeable but seemingly different people who disguise personal tragedy with a brave, cheerful face. But in truth, it is a rather complex tale composed of many, many layers hidden beneath the masks. As those layers are gradually peeled away, we experience their sometimes gentle, sometimes bumpy roller coaster ride that tugs at our hearts. But just when the conversation seems settled in serious territory, the dialogue makes a sudden swerve that surprises us. Humor lies in wait, around the next corner, ready to pounce.
Director Tricia Matthews makes the most of this ride, finding all the peaks and valleys in the struggle of two lonely, bedraggled-by-life humans who unexpectedly help each other dig their way out of grief and inertia. Jack Keys, played by Nicholas Piper, moves from a big city on the Gulf Coast to a small, sleepy town in Alabama to teach high school physics. Lizzy Nash, played by Wendy Piper, is his new next-door neighbor and an English teacher at the same high school. Jack, a fairly taciturn Catholic, and Lizzy, a chatterbox Baptist, appear to be vastly different people. But after Lizzy's compulsion for gossip reveals that the previous owners of Jack's house both passed away there (in his very bedroom, no less), they discover what they have in common: widowhood.
A passel of old letters found in Jack's attic stir their curiosity about the deceased former owners. Words shared between a husband and wife whose love had weathered hardships yet endured prompts each of them to embark on a scary but compelling self-examination. But like abandoned cats reluctant to respond to human touch, each is wary of the other in their own way. In the thrust and parry of verbal swordplay, they do a dance that alternates between approach and rejection. Ever so gradually, but not always so gently, barriers fall away, leading to shared stories and confessions that help mend and heal. They guide each other through a painful but joyful journey to rediscover their long-hidden hearts and contemplate the possibility of risking love again.
A story told by only two characters for an entire performance is a tall order for actors. Nicolas Piper and Wendy Piper rise to the challenge admirably, capturing all the nuances of the complicated and troubled Jack and Lizzy. Nicolas is at once heroic and amusing as he maintains Jack's manufactured solid façade amidst the physical chaos that belies his inner turmoil. Yet he fully bares the soul when Jack yields to his grief. Wendy fully fleshes out Lizzy, a character full of contradictions who masks her fear of intimacy with an overly busy life and incessant chatting. The dialogue of the loquacious Lizzy serves up lots of word twists and sudden bursts of impulsive thoughts, often resulting in innocent but hilarious double entendre. Timing and inflection are crucial in the delivery of such lines, which Wendy handles with a deft touch.
Hana Lee's organic set design is as much a part of the storytelling as the dialogue. From the front porches of the two weathered wood houses we learn a lot about their inhabitants. Jack's practical furnishings, including a fully functioning Maytag clothes dryer, and the disarray of his boxed belongings reveal his desire for efficiency but inability to get organized. Lizzy's very colorful, "busy" porch – with its clamoring wind chimes, flower boxes and bottle tree nearby – reflects her need for noise and vibrancy in her life as an escape. Her clothesline with neatly pinned laundry stands between the houses, a symbol of her contradiction with Jack but also her desire to cling to a primitive method of industry. Lee has created vivid images that instantly stir our curiosity about the characters who placed them there.
Lighting design by Camille Davis compliments the setting, drawing us into the mood and climate of a scene with subtle shifts, yet employing abrupt and realistic storm effects as the story dictates.
Tying the entire effect together beautifully is Tony Angelini's sound design. Gentle but lively R & B music sets the tone for the story about to unfold. Realistic but subtle sounds of a small Southern town resting on the edge of a rural landscape underscore the scenes, gently washing over us so we experience Jack and Lizzy's world, as well as their pain. Scene changes, seamlessly carried out by the characters as part of the action, are accompanied by perfectly matched acoustic guitar interludes. We feel the passage of time as well as see it, propelling us to the next part of their journey.
Maytag as metaphor is an unusual path for a love story, but it is perfect for this one. We learn that a small confined space that encapsulates only two lovers, tumbling through life but giving over to its warmth, can be a rejuvenating comfort.
For tickets and information contact 276-628-3991 or click here.
Bonny Gable is a former theatre professor and freelance writer based in Bristol, Virginia.