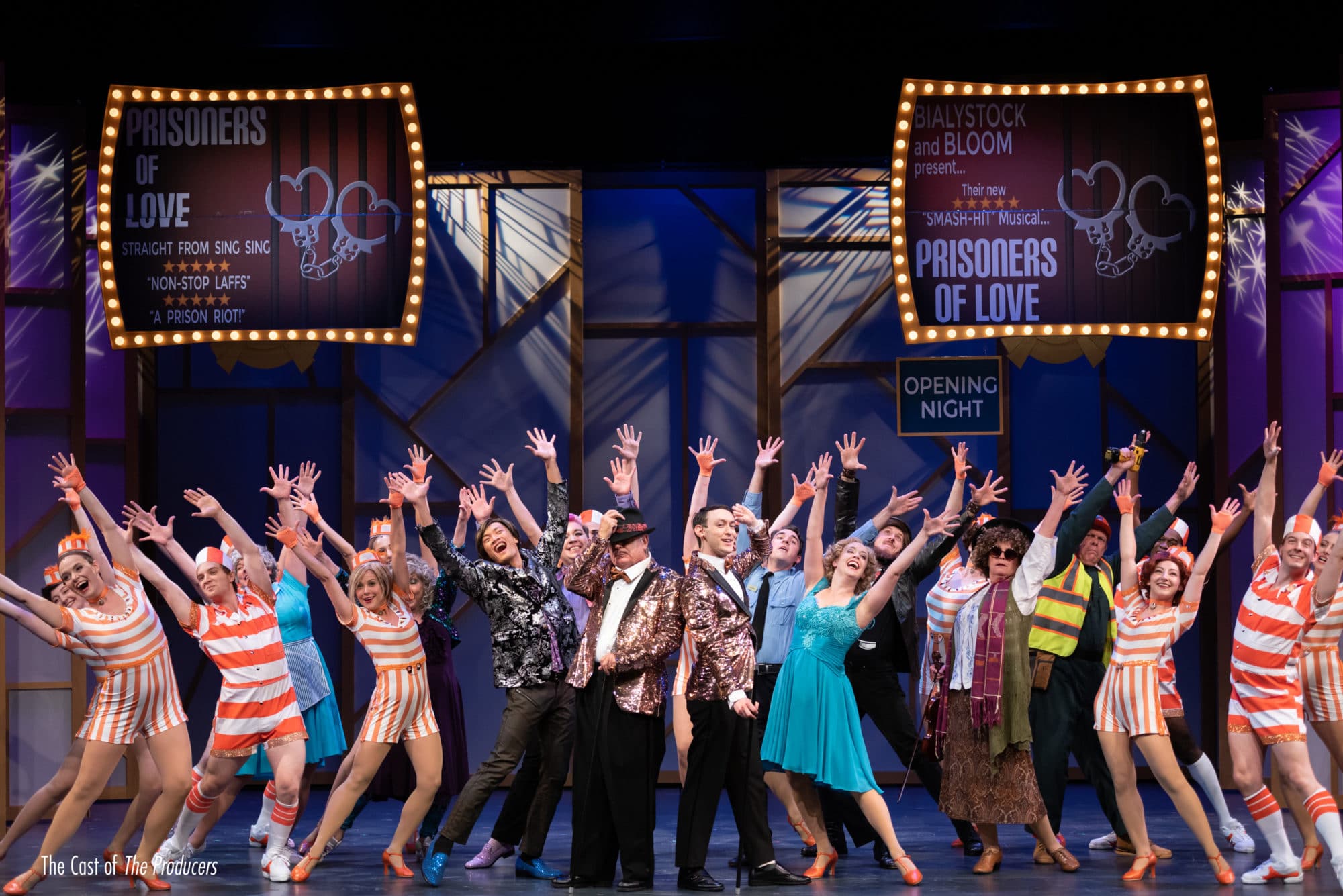 Review by Bonny Gable
Although Mel Brooks was writing masterful comedy long before email or text messaging, he certainly cultivated the concept of ROFL. His genius for supercharged offbeat humor undeniably induces "rolling on the floor laughing." His musical farce The Producers, now playing at Barter Theatre, is Brooks at his best. This gloriously lavish exercise in satire is absolute, unadulterated fun.
Adapted from Brooks' 1968 film, the 2001 stage musical was a smash hit on Broadway, winning twelve Tony Awards right out of the gate, the most ever won in the award's history. With a book co-written by Thomas Meehan, and music and lyrics by Brooks, this iconic musical comedy gem takes Vaudevillian camp and shtick to an unsurpassed level. And you'll love every minute of it.
Working in parody like a composer of a wacky symphony, Brooks is a prolific generator of spoof. He dives full throttle into the repulsive absurdities of life to mine them for undiscovered mirth, then unapologetically holds up human vices and follies to ridicule, producing a treasure trove of hilarity. Weaving a tapestry of jubilant songs, knockout dance numbers, and zany dialogue peppered with rib-tickling zingers you don't see coming, The Producers delivers the quintessential musical comedy experience.
Max Bialystock, a Broadway producer of flagging success, joins Leo Bloom, his mild mannered accountant but wannabe producer, in an underhanded but seemingly brilliant moneymaking scheme: over finance a new show, produce a sure-fire flop, then hightail it out of the country with the unused funds. With dollar signs clouding their vision they are convinced it cannot fail. Like Keystone cops breaking bad they embark on a bumbling quest to find the most terrible script, and the worst possible director and actors to carry out their preposterous plan.
Ramping up the stakes, Max woos his entire harem of wealthy Little Old Ladies to overfill his coffers, while hiring the nubile Ulla as dancer/secretary. The timid Leo is immediately smitten with this sultry Swedish siren, thus destined to bend to her every whim. All is set to begin production of the horrendous "Springtime for Hitler," a show that will surely offend everyone and close on opening night.
But in classic Brooks style, everything gets turned on its head. What Max and Leo fail to foresee is that treatment of atrocious ideas in an overly glorified manner is the ultimate lampoon. Tastelessness and offensiveness raised to such amplified heights renders them ridiculous. They cannot possibly be taken seriously, and the only thing left to do is revel in their entertainment value. Their half-baked recipe for disaster turns out an overdone feast, serving up all the outrageous spectacle, rollicking music and laughs that any audience could hope for.
It is obvious that Director Richard Rose had a marvelous time leading his charges through their paces to bring about this theatrical treat. The splendid performers are all utterly at home in their roles, working furiously but totally at ease. Rich, smooth vocals and electrically fluid movements permeate the performance from beginning to end. Everyone on stage is having the time of their life, and so are we.
The cast works together in perfect harmony with the precision of a well-tuned orchestra. Michael Poisson (Max) and Rusty Allen (Leo) form an endearingly amusing duo as the mismatched pair who, despite everything, take the best from each other and form a steadfast friendship. Justin Tyler Lewis is the king of spoof with his outrageous turn as the overzealous Franz Liebkind, while Ashley Campos as Ulla does a fantastic send-up of an innocent femme fatale.
Taking the stage by storm with his colossal energy is Sean Maximo Campos in a truly unforgettable performance as Roger De Bris. Campos delivers a bodacious stage director oozing with charisma and flaunting his inimitable outlandish style. Fawning over his every word is his devoted sidekick, Carmen Ghia, played with subtle comedic aplomb by Zacchaeus Kimbrell. The crowning touch to this bedazzling display is the dynamite ensemble of fabulously versatile actors who sing, dance, and play the plethora of zany characters it takes to tell this uproarious story.
Hana Lee, as befitting a show about Broadway shows, has created versatile sets and backdrops ranging from the rugged and functional to glorious over the top spectacle. Costume Designer Lee Alexander Martin continues this vision, draping the characters in an explosion of bright glittering color and sleek, eye-popping designs that suit every character and scene to a T. But in all visual displays, be on the lookout for small but brilliant sight gags that will give you an extra chuckle.
Hats off to Music Director Lee Harris for wrangling all the orchestrations, harmonies and melodies we enjoy in this boisterous musical joy ride. As the music soars, Amanda Aldridge's stunning choreography, complemented by show stopping tap numbers created by Andrew Hampton Livingston, infuse the stage with infectious energy.
The glitz and glamour of The Producers is as sparkling as the laughter that will spill from your throat. Its humor is at times irreverent, but in a most delicious way. The many spit-take worthy moments make this a knee-slapping, belly-laugh-until-you-hurt kind of play. Which, in a world where reality sometimes makes no sense at all, is a welcome remedy.
Bonny Gable is a former theatre professor and freelance writer based in Bristol, Virginia.