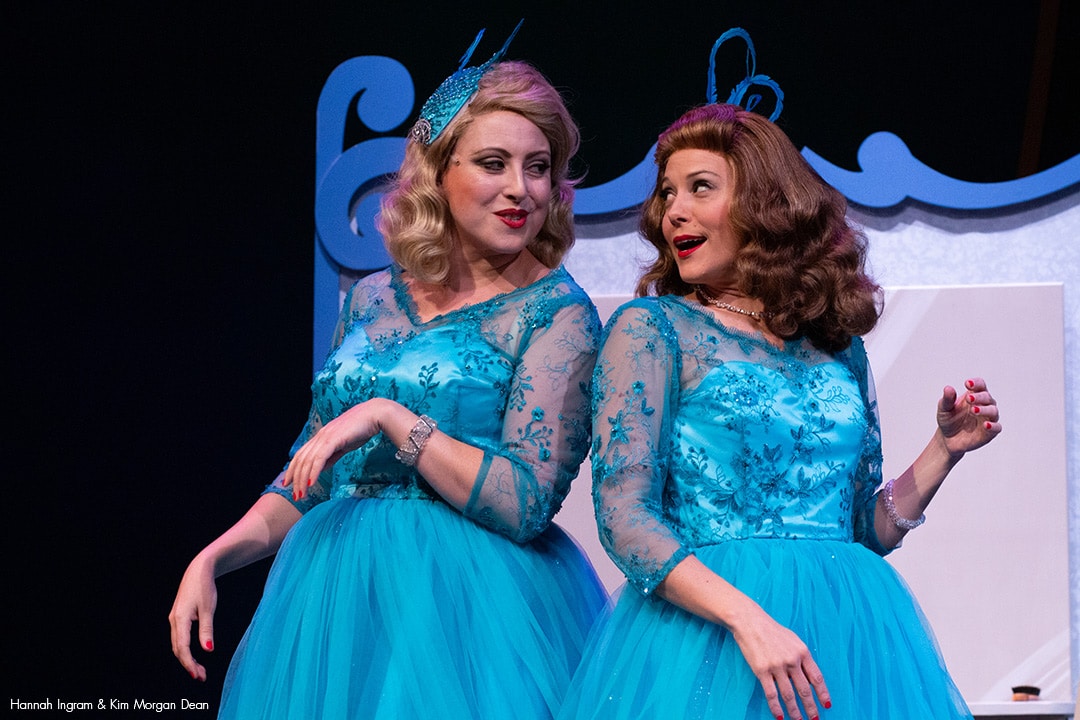 Review by Bonny Gable
The Christmas season prompts nostalgia and a craving for a hearty, old-fashioned story: one with romance, heroes, and good-natured mischief. Toss in vivacious dancing, glorious singing, and just enough of well-intentioned deception to create interesting plot twists, and you have all the ingredients for a retro entertainment that welcomes the holiday spirit. Irving Berlin's White Christmas, now playing at Barter Theatre, is exactly that.
Berlin's music and lyrics coupled with a book by David Ives and Paul Blake gives us a holiday classic with everything we long for at this time of year. Songs that have captured hearts for many decades – "Blue Skies," the memorable duet "Sisters," the rollicking "I Love a Piano" along with the iconic "White Christmas" – allow us an escape into a simpler time, at least for a couple of hours.
Based on the 1954 Paramount Pictures film, the play provides the special thrill of watching a beloved movie come to life before your eyes. From the giant '50s Christmas card that greets us upon arrival, to the quaint Vermont ski lodge and sophisticated New York nightclubs, Hana Lee's evocative set designs lead us into that world.
It's Christmas Eve 1944 when Captain Bob Wallace and Private Phil Davis drum up some holiday cheer for soldiers in a cold, snowy World War II encampment. Bob croons the soulful "White Christmas," a song about everything a lonely soldier would dream of that night. He then recalls that separation from loved ones at the holidays is painful, but due to the sacrifice of those who fight for the nation's freedom others at home now gather in safety and gratitude.
Jump forward to 1954 New York City and a performance of the Ed Sullivan Show. "Wallace & Davis," now a successful song and dance team, hoof it in a stunning dance number that sets the tone for the toe-tapping but heartwarming story that will unfold. Action is triggered when they discover "The Haynes Sisters," Judy and Betty, a new singing duo striving for their big show business break.
Phil is quite the ladies' man, and Bob is the cynic, disinclined toward love. Judy is ripe for flirtatious temptations, but Betty is wary of male attention. Phil and Judy hit it off right away while Bob and Betty mix like oil and water. The new lovebirds immediately devise a plot to turn the reluctant pair into a couple.
This clever scheme takes them all to a ski lodge in Vermont, which just happens to be owned by their former army leader, General Henry Waverly. Delight at a surprise reunion with their beloved commander soon turns to dismay when innkeeper Martha secretly discloses that the lodge is on the verge of bankruptcy.
Bob hatches a plan to save the lodge for the General, even though it entails a bit of well-intentioned deception. With forces mustered, everyone forges ahead despite unfortunate misinterpretations and mishaps. Through singing, dancing, and comedic antics they weave in and out of unforeseen obstacles until the tangled web of deceit is ultimately untwisted.
Sean Maximo Campos as Bob and Hannah Ingram as Betty both give dynamic portrayals of their characters as they traverse the circuitous path into each other's arms. Their partnering in "Love, You Didn't Do Right by Me/How Deep is the Ocean" is a shining vocal highlight of the show.
Andrew Hampton Livingston as the mischievous Phil and Kim Morgan Dean as the fun-loving Judy prove that "The Best Things Happen While You're Dancing." Phil literally "swings" Judy, and the two twirl and glide around the stage in smooth, lilting motions.
Many accolades go to the exceptional ensemble who dance, sing, and play multiple characters with polished facility. Supporting actors Rick McVey (General Waverly), Paris Bradstreet (Martha "Megaphone" Watson), and, for the performance I attended, Olivia May Stevens, a young performer of promise in the role of Susan, all give very entertaining performances.
Just as many soldiers working together win a war, many fine theatre artists bring a show to its feet. Director Richard Rose, with the assistance of excellent musical direction by Dishon Smith, leads the outstanding cast and fine group of collaborators that make a memorable show like this happen.
Although the uncredited choreographer of the movie version was a young Bob Fosse, he has nothing over Amanda Aldridge. From dancing passengers in a train car to stunning productions numbers that exploit the entire stage, her inventive choreography infuses the show with joyful vitality. Andrew Hampton Livingston's charming and cheeky tap numbers are a fitting complement to the spectacle.
Also taking center stage are Aldridge's costumes, in vivid colors of Christmas gift-wrappings, with sprinklings of sparkle and fur for added zest. Judy's full and flowing gown for the swing scene is just one example of the many special touches that create moving visuals that set this show apart.
Moving forward can often be painful, especially when our steps are unsure. Taking a moment to step back, and look back, can feed the troubled soul. White Christmas is the necessary comfort food of entertainment – promising snowflakes, dazzle, good cheer, and a happy ending.
Bonny Gable is a former theatre professor and freelance writer based in Bristol, Virginia.