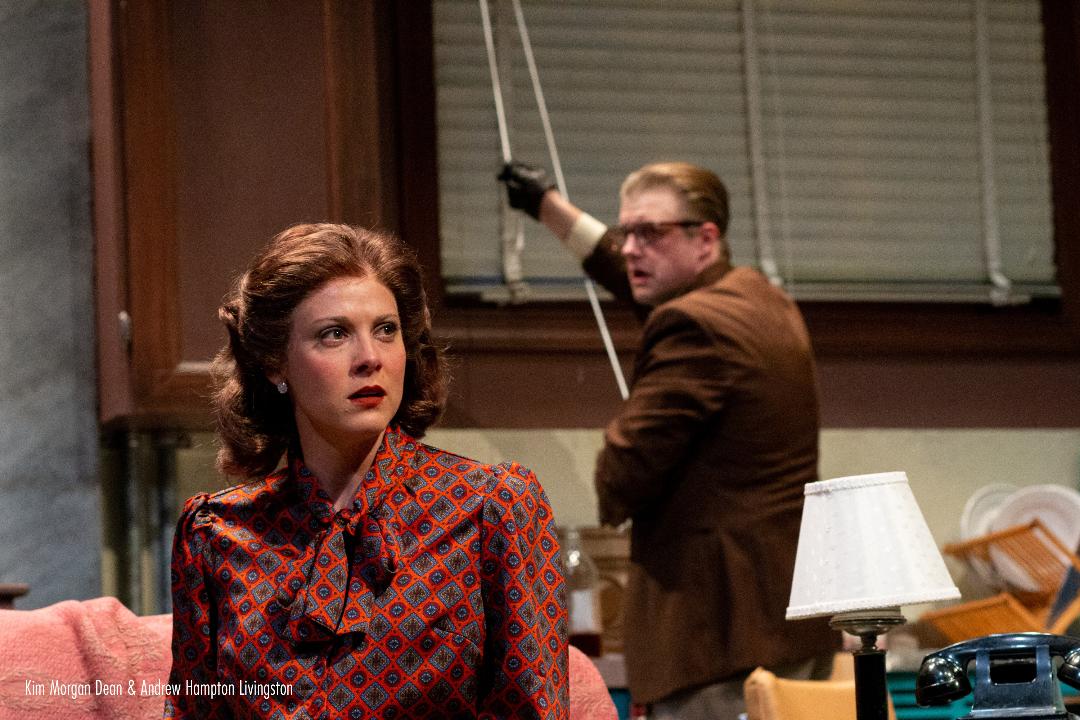 I cannot begin to tell you how grateful I was to be invited back to Barter Theater to review their brand new show, Wait Until Dark, the Tony Award-winning play by Frederick Knott that was adapted into the well-known film starring Audrey Hepburn, Alan Arkin, and Richard Crenna. I consider myself fortunate that I had not seen the film so that the story idea would be completely fresh to me.
Even before the play began, I was smitten with the colorful 1944 set, designed brilliantly by Derek Smith. I'm a sucker for period pieces set in the 1940s and 50s. Of course, the story itself was the perfect recipe for putting one in the mood for Halloween. Wait Until Dark is a thriller that takes place within your own mind as you try to figure out the complex mysteries of all the things taking place, reminiscent of my favorite Alfred Hitchcock films. The two-hour play flies by in no time at all as chills keep your spine frozen along with your gaze toward the stage.
If Tony Awards were given for local theater, Kim Morgan Dean would be a "Best Actress" winner hands-down. She stars as Susan Hendrix, a recently married woman who was blinded in a car accident. She meets her husband, Sam, played by Tyler Cramer, in the hospital where he was treated in the psychiatric ward for PTSD as a World War II photographer. Now, he spends his days away from home in the studio taking baby pictures and headshots for wannabe actresses. As a result, Susan is left home alone and must learn how to care for herself. She has the help of her teenage neighbor, Gloria, played by Libby Zabit.
Susan is completely unaware that three major criminals, one a corrupt cop played by Rick McVey, the second a former lieutenant turned traitor, played by Justin Tyler Lewis, and the third a psychopath criminal mastermind played by Andrew Hampton Livingston. The latter always seemed like such a nice and superbly talented guy, but his versatility is proven beyond measure when he reveals that he can play the meanest character imaginable. His dastardly plans, however, are only matched Susan's brilliance and her uncanny ability to sense her surroundings despite being blind. This woman knows how to use her disability to survive and when things begin to look bad for her and her husband, Susan proves that she can be a champion under pressure.
This entire play was one of the most alluring I have ever seen at Barter Theater. The entire cast was at the top of their game in some of the best acting I have ever seen in any medium. In addition to a couple of regular favorites, Louis and Livingston, there were several new faces I have not yet seen or could not recall. Libby Zabit is a wonderful comic relief as the child from a broken home who just wants to be helpful. Rick McVey exudes his talent at a new level portraying the cop turned criminal, but looking not unlike a hard-boiled detective from the Raymond Chandler and Dashiell Hammett novels. Livingston is just an all-around bad dude, who seemingly cannot be outwitted or beaten by anyone. He is intimidated least of all by this young blind woman, but Dean as Susan is not about to go down without a fight. She is unquestionably the star of the show and portrays herself so well as a blind woman that, as she looks out into the audience, you would leave she's actually blind.
I can relate to her character in many ways. As a newlywed who happened to be disabled, I often wondered in the beginning, just as Susan does throughout the play with her husband, when my wife was going to get tired of being married to a disabled person and find someone more physically suitable for her. I also could relate to her feeling inferior to everyone else.
"Sam is great at everything," Susan says once in a line I especially appreciated. "He should be the blind one. He'd be great at it."
However, just as mine did, Susan's self-confidence improves when she is given no choice but to fight for herself. She soon realizes that all the lies she has fed herself about her inferiority are nonsense and she hones the skills she has to remove herself and her husband from the face of danger. While she knows that others have an inevitable physical advantage over her, she cannot allow them to win without at least giving them a run for their money as they have never encountered.
Wait Until Dark is a gripping play from start to finish. It is also filled with extremely clever dialogue, chilling twist and turns and is a terrific exercise of the mind with many lessons to be extracted from it. It is also one of the best times I have had in a very long time.
I had not been to Barter Theater since my wife and I took my mother to see Elf last Christmas. It has become a tradition of ours to see the Christmas play every year, but my mom, who travels in from SC, loves Halloween, and we try to get in to see a play then if it looks like our kind of spooky. This one sure did and we were not disappointed. Richard Rose, a class act in every sense of the word, was nice enough to invite us all. He and his entire staff are all terrific and I'm most grateful for their kindness and accommodations. While we cannot wait for the Christmas shows, we would see Wait Until Dark again and again if we had the opportunity. It's one you don't want to miss on its run through November 8th.
As you probably already know, Barter is also running way short on funds this year. Let us not forget that Bob Porterfield was born in Wythe County and is thus one of our own. He turned a small theatre into a global treasure by giving people entertainment regardless of financial ranking. We must return this favor to keep the crown jewel of Southwest Virginia alive for another 86 years and beyond.