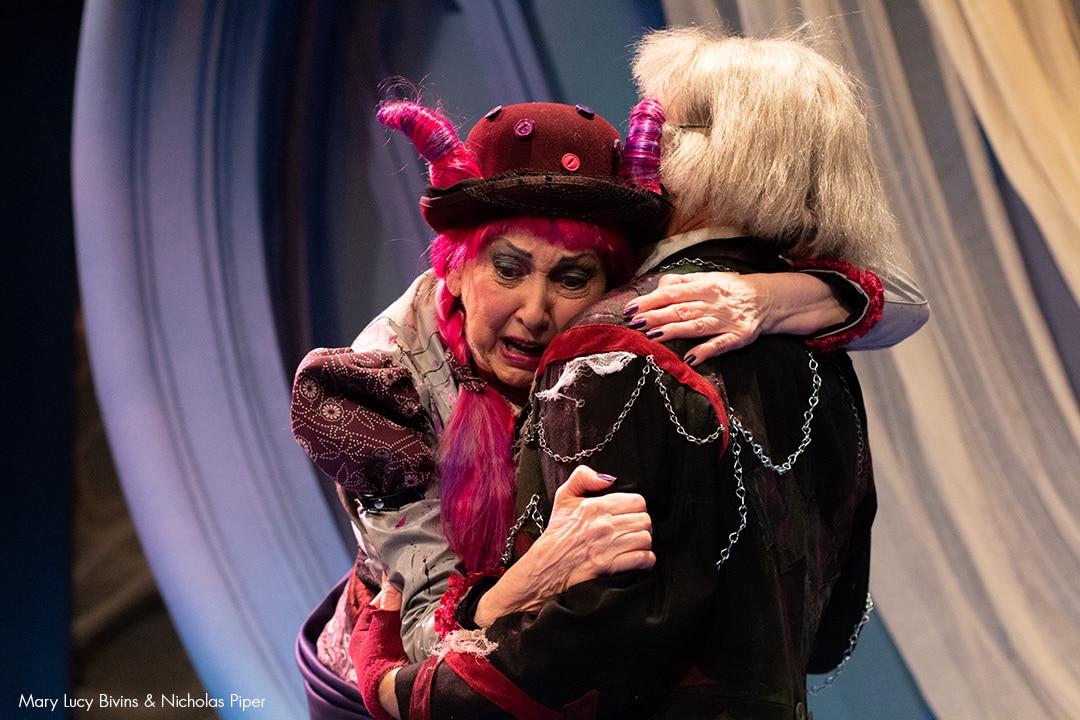 Review by Bonny Gable
To examine a time-honored story written by a giant of classical literature takes an inquisitive mind, a vast intellect, plus a lot of courage. Fortunately playwright Tom Mula possesses all three and dares to ponder some big questions: What prompted Jacob Marley's visit to Ebenezer Scrooge on that Christmas Eve so long ago? What was Marley's fate in the afterworld, once he was shackled to those chains he forged in life?
In Barter Theatre's production of Jacob Marley's Christmas Carol, Mula brilliantly explores the Dickens' classic from Marley's point of view while remaining true to the intention of the original tale. All the valuable lessons are there – how to treat our fellow creatures, how to honor our human connections, how to care for one another. In a search for the true message of Christmas, this alternate story pays off well.
Mula's vivid imagination takes us on Marley's journey into the realm of the afterlife, where his spirit traverses Dante's levels of hell to arrive at the Record Keeper's station. The accounting of Marley's life shows lots of debits but few credits. Granted one chance to escape his fate of eternal torment, he must perform a seemingly impossible task: redeem his former, equally avaricious business partner, Ebenezer Scrooge.
Director Susanne Boulle proves a good match for Mula's daring and insight. She fearlessly discloses every raw nuance of this theatrical death journey that transforms the bitterness of loss into the joy of giving.
Nicolas Piper gives an unforgettable portrayal of Jacob Marley in many incarnations. He is equally captivating as an innocent but frightened child, a bullied teen mustering his defenses, a grown man turned ferocious with greed, as well as an introspective and courageous spirit struggling to save his soul.
The Bogle – a devilish imp who pilots Marley on his journey through hell – is brought to life by the remarkable talents of Mary Lucy Bivins. In her hot pink pigtails and rakish hat that befit her rascally persona, she puts him through his paces while providing a jovial running commentary.
Tricia Matthews and Michael Poisson, both playing a variety of characters, round out the exceptional ensemble. Matthews especially shines as the portentous Record Keeper and as the menacing Spirit of Death, while Michael Poisson undeniably captures the tenor of an Ebenezer Scrooge that we love to hate, but rejoice for when converted by Marley's efforts.
Stepping into the theatre you immediately sense you are entering an unknown and forbidding realm. Swathed in ghostly pale sheers, an enormous Gothic window sits askew mid-stage, warning us that things are out of kilter in this place. Derek Smith's inspired stage design is not only beautifully ominous, but exploits the entire space: action springs from all directions, keeping you constantly surprised.
Lighting and sound play roles as involved as any of the characters, and the performances are just as tight and honest. Camille Davis' carefully crafted illumination enhances the action without ever overpowering it. Her colors and intensities create a sense of atmosphere and cue us to shifts in the story, which at times happen in an instant. Sound designer Tony Angelini incorporates Larry Schanker's original music plus judicious use of effects that enrich the dialogue and further engage us in the story.
The characters' attire and accouterments make delightful visual statements of organized disarray. Kelly Jenkins' costumes present the appearance of having weathered the tumultuous journey of time while maintaining a certain dignity, even ripening into lush togs perfectly suited to each personality. Beguiling wigs by Whitney Kaibel complement this enchanting look. From head to toe the deep colors and textures communicate the bizarre essence of time in this story, where characters exist in both Dickens' epoch and in a place where time is indefinable.
Jacob Marley's Christmas Carol may be unlike any other Christmas play you've ever seen. However, it is one of the most engaging and thought provoking plays you could attend. The holiday season often makes demands that crowd our schedules, but it also inspires contemplation of how we spend our time on this earth. Carving out a couple of hours to take in Mula's play will pay worthwhile dividends.
Bonny Gable is a former theatre professor and freelance writer based in Bristol, Virginia.