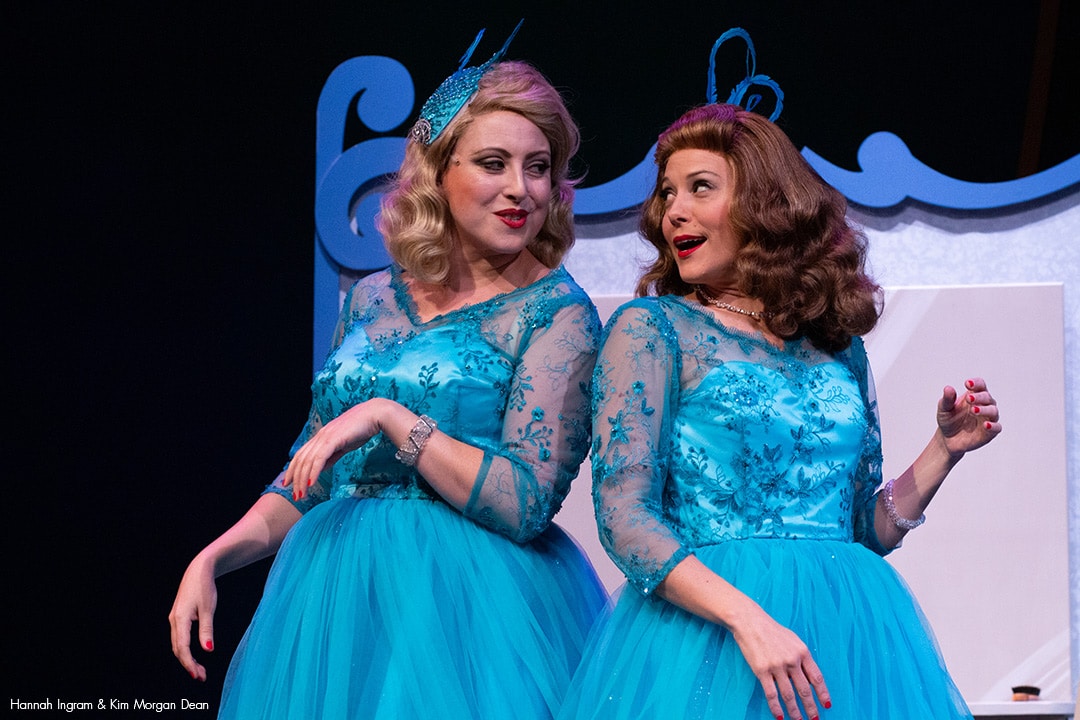 Seeing Irving Berlin's White Christmas performed on the stage at Barter Theatre in 2017 was an unforgettable experience. It is my mother-in-law's all-time favorite Christmas program and is certainly one of the greatest classics of all time. Getting an opening night preview of this wonderful Barter production, which brings the Technicolor spectacle to life right before your eyes, was even more special this time around. On November 15th, my wife, mother-in-law, and I saw not only the first presentation of White Christmas this season, but also the last play to be directed by Barter Theatre artistic director Richard Rose before his retirement at the end of the year.
A 27-year veteran of the position at Barter, Richard Rose has been one of the kindest people with whom I have ever worked in the last nine years of doing intermittent Barter Theatre reviews. He has taken $12 a week columnist and made me feel like my reviews were as important and vital as if I were writing for the New York Times. His kindness, his stories, his insight and most importantly, his friendship has been more invaluable to me that I can put into words. He will be missed more than he will ever know.
The 2019 production of White Christmas was even better than its predecessor. From a technical standpoint, everything was spot-on. The dancers were unbelievable, thanks in large part to choreographer Amanda Aldridge and dance Captain Ashley Campos. Aldridge also designed the most beautiful costumes I have seen in any Barter Theatre production, which matches the stellar designs of the original 1954 film. Set designer Hana Lee was equally perfected in her tasks of bringing the sets alive with color and vibrancy, again greater than two years ago.
Much of the production and cast was the same for both runs, simply because not much needed changing. However, most of the differences in the cast this year were to the benefit of the play. Andrew Hampton Livingston is a star in his own right and proves himself fully as Phil Davis. He is completely deserving of the starring role alongside Sean Maximo Campos, who reprises his role as Bob Wallace. These two gentlemen are the pick of the litter within the Barter repertoire and keep the show on a witty and talented flow throughout. Their voices are incredibly strong as well as their acting ability and dancing skills. No one, however, dances like Livingston.
Kim Morgan Dean steps into the role of Judy Haynes after becoming Barter Theatre's breakout star with her riveting lead in Wait Until Dark. While she proved herself that's a good enough singer and dancer to play the role, I have to admit, there were times that I missed the bright and bubbly performance by Sarah Laughland. However, in most cases, the quality of both actresses' performances was equal.
Justin Tyler Lewis is one of my favorite character actors within the Barter company. He is always brilliant as the triple threat of actor, singer, and dancer, but his humor is what shines through the most. That being said, I wish he had kept his role of frantic stage manager Mike Scooter instead of the bumbling farmhand Ezekiel Foster, which was originally played by Nick Koesters. Lewis played Ezekiel well enough, but Koesters stole the show. I also thought that Justin played a better scooter then Zacchaeus Kimball, but then again, there would not have been a more befitting role for Kimball in this play.
The synchronized dancing, breathtaking sets and costumes and all around ensemble casting this time around made the show the best I've ever seen it. It certainly goes down in the annals of Barter Theatre history as one of the best productions I have ever seen and certainly one for a champion like Richard Rose to implement as his show-stopping swan song. I found it interesting that Rose was listed to be an understudy for a couple of the characters in this play. I regret that I have not had a chance to see this masterful artistic director in a performing role. Of all the people I've known in my life, I can guarantee you there will never be another Richard Rose.
White Christmas would not have been a complete show without the famous show-stopping number "I Love A Piano," choreographed and starred by Andrew Hampton Livingston.  His tap-dancing is second to none. Hannah Ingram is also in top-notch vocal form as she reprises the role of Betty Haynes, particularly when "Love, You Didn't Do Right By Me." The chemistry and banter between her character and Campos is of particular note.