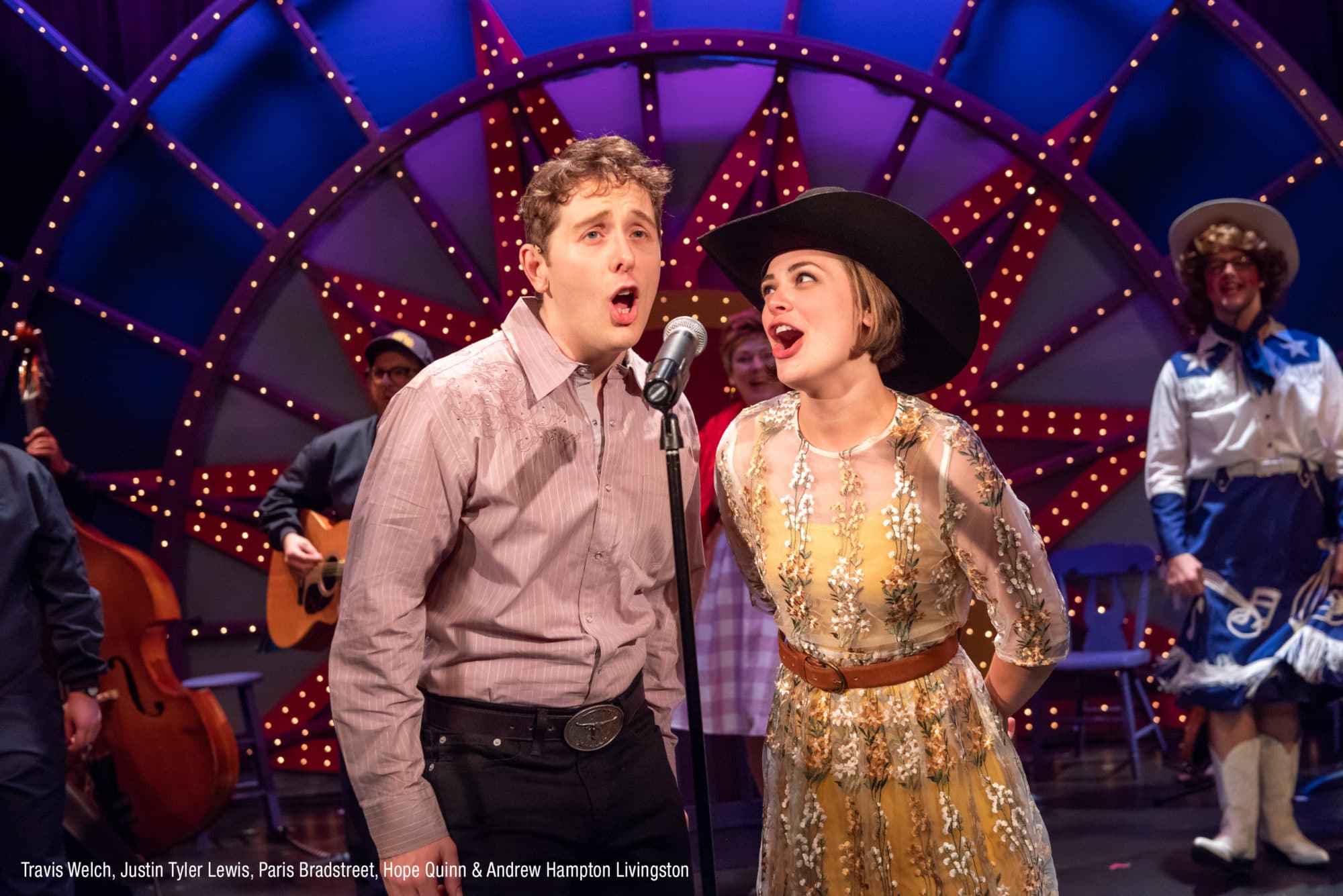 To witness an artistic creation from birth into full bloom is a thrilling experience. I have seen every version of Madame Buttermilk, beginning with its staged reading at Barter Theatre's Appalachian Festival of Plays and Playwrights in 2016. It then enjoyed two incarnations at Stage II, and now presents in its full glory on the Gilliam Stage. I must say that its creator, Ross Carter, should be one proud papa. The story and music are fully fleshed out and the production style more elaborate, matching the growth in popularity and audience adoration of this unique musical comedy.
A simple miscommunication creates a preposterous situation when Carly Speranza's agent, Kit, thinks she has booked her client to sing the lead role in the opera "Carmen," Carly's life-long dream. When Carly arrives at the venue, the West Virginia State Fair, she discovers she's booked as a lead singer in the country music group the "Car Men," lead by none other than Mr. Ford Fairlane. Sparks fly and the hilarity begins as one misunderstanding after another entangles opposing forces that struggle against all odds to make the show go on.
Derek Smith's fantastic set immediately conjures the excitement of a state fair, with all its glitz, lights and color. A magical place where rules are suspended for a few hours, here one can indulge in excesses of an innocent nature. This fair is an earthy, wholesome event: about farm animals, food, music, and thrills, with a little competition and fiery love complications thrown in for good measure. And what could be more competitive than two styles of music that are as far apart as the sun and the moon? Country music and opera may be at odds, but what they do have in common is larger than life showmanship. Barter's production captures this in spades. Director Richard Rose has inspired all actors to bring a fresh, distinctive energy to their roles and the chemistry amongst the cast is palpable. Their storytelling is infused with an infectious vitality, especially when already absurd circumstances are amplified by many clever puns that punctuate the dialogue and permeate it with unexpected twists.
Hannah Ingram as Carly Speranza proves she is no stranger to opera. Her voluptuous, lilting voice rings with a freedom that effortlessly releases operatic melodies with ease. She embodies her character just as well, deftly shifting through the myriad of emotions her predicament incites. Whether weaving the classic melody of Carmen's "L'amour" into a country tune, confronting a long-lost boyfriend or planning the "murder" of her errant agent, Carly maintains control.
Andrew Hampton Livingston portrays Connor Duke, aka country singer super-star Earl Conway. With a country boy's winning smile and easy-going charm Livingston guides Connor through his prickly reunion with Carly with finesse. He gives fine voice to the operatic snippets he shares with Carly as well as to his hit country song. The infamous Ford Fairlane comes to life via Rick McVey, a true comic virtuoso.
Fairlane keeps all fires burning, and sets a few of his own, turning the wheels of the action at a swift clip. His girlfriend and partner, the voiceless Dody, is a joy to behold. The rollicking energy and inventive antics of her pantomimes add a unique
dimension to an already funny show. Her timing is spot on, and the nuances she incorporates add extra comic zing that is priceless.
Another great team is comprised of Kim Morgan Dean as Carly's agent Kit McCandless and Zacchaeus Kimbrell as Billy Mac Wilson, aka Beemer, the Car Men's business manager. Although from different worlds, both are sharp as a tack and drawn together in a battle of wits. With brilliant vocal strength and vitality Dean regales with her comic songs and wily schemes. And for several marvelous minutes Kimbrell steals the show with his solo "Extravaganza," as the Gilliam Stage gives him room to soar with this hilarious number.
Katherine Lyle is entertaining as the excitable stage manager Jan Swaggart, at odds with the pedantic Art Flanagan played by Rusty Allen. Both characters take themselves way too seriously, but come together in crisis to form an unlikely couple. Art dreams of "The Girl Who's Waiting Patiently" in a charming song and dance number that Allen executes with warmth and hope. With the talented Dishon Smith conducting from the keyboard, a lively five-piece country band provides toe-tapping accompaniment right on the stage. Some players double as Car Men singers, which produces a truly integrated ensemble of performers.
Tackling both choreography and costume design, Ashley Campos excels at both. Movement is perfectly suited to each character and illuminates each song. Coordinated colors and textures complement a design that befits an overly brilliant outdoor fair. Ford's glittery orange performance suit and Carly's sparkly teal flounce dress paired with turquoise cowgirl boots make them the envy of country fair stars
everywhere.
And I must give kudos to lighting designer Andrew Morehouse. Not only has he styled lighting to create an appropriate mood for each scene, he has coordinated what looks like a million chase lights attached to every frame and false proscenium on the stage, creating a truly authentic fairground atmosphere. Whether you are a newcomer to Madame Buttermilk or a veteran who's experienced
all previous manifestations, I highly recommend you treat yourself to this newest rendition of a splendid one-of-a-kind musical comedy. But a fair doesn't stay in one place forever, so ya'll come on out!
Bonny Gable is a freelance writer based in Bristol, Virginia.
https://www.linkedin.com/in/bonny-gable-4a4767a1/