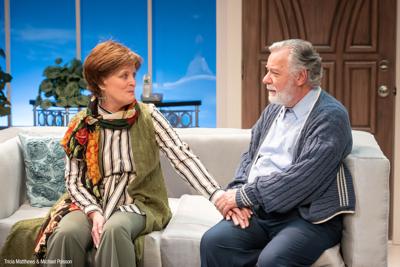 I didn't want to miss a minute of Morning After Grace.
This onstage story starts with a scandal, when a couple of senior citizens awake on a couch after presumably having, well, what we might just term "a good time" the night before.
The lady on stage scrambles to get dressed.
And the man just keeps on snoozing.
This is the opening scene of Morning after Grace, a show now featured at [Barter's Smith Theatre].
It's an exploration of love, heartbreak, betrayal and confession.
Morning After Grace features three characters, each facing their own dilemmas.
The dialogue is sometimes R-rated. Why, one actor even says the F-word!
But, says the Barter Theatre's producing artistic director, Richard Rose, that's all part of the dramatic build-up between the characters of Angus (portrayed by Michael Poisson) and Abigail (played by Tricia Matthews).
What starts as fun and frivolous becomes a hatred that grows like mold on a chunk of cheese that has been left out to spoil.
"I love what they go through," Rose said. "I love that fact that their chemistry is good. I think their journeys are journeys that each of us do in lots of times and ways."
Here, you'll see your own relationships on stage, Rose said. "And how you deal with them and what credit and level of commitment you give," Rose said.
"Not taking things for granted," Rose said. "And that means everything."
This show forces you to look at all of your relationships in a positive way, Rose suggested.
"I would say this is a pretty mainstream show across the board, in terms of the people who are really reacting to it," Rose added. "It's doing very decent audiences, and it's building very rapidly."
Morning After Grace is not preachy.
My review: It works so well because it allows each character some bright comedic moments that foreshadow the impending dramatic roller-coaster in the second act.
"You really start caring about these people a lot," Rose said. "So, by the time you get to these real dilemmas, you're invested in them fully. … And the humor of it's so real."
This is Valentine's Day, after all.
So, what's love got to do with it?
"This is a great piece for Valentine's Day because couples talk about the thing that they take for granted with each other," Rose said. "That's the beauty of this piece because it really helps you commit to what you believe in. And that's just something we need to be reminded of because it's just too easy to take each other for granted. And what better lesson for Valentine's?"