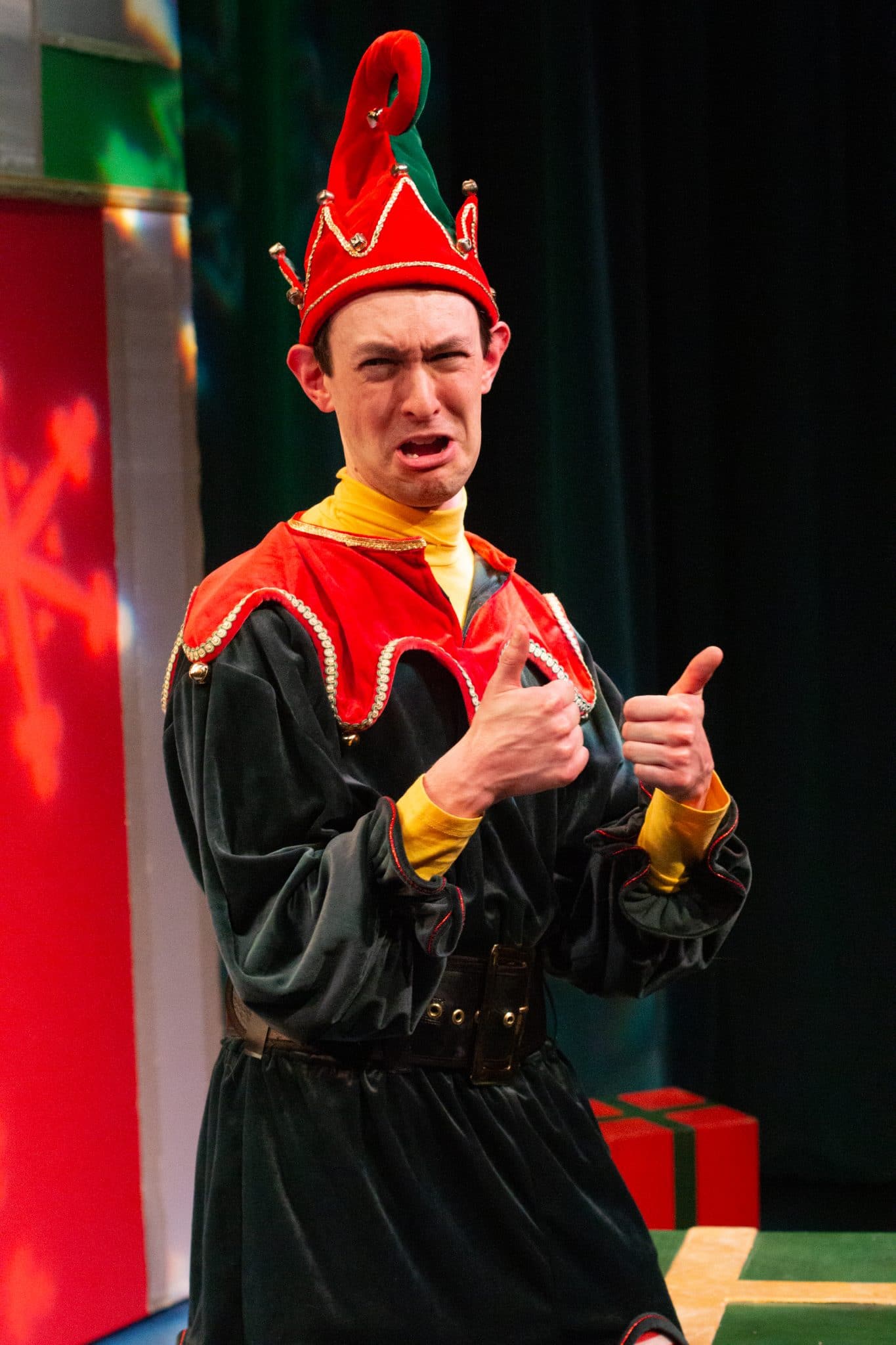 Review by Bonny Gable
Celebrations of the Christmas season are highly anticipated each year, but too often well-intentioned "cheer" goes into overdrive and quickly overwhelms. If you're up to your ears in assorted obligatory holiday merriment and feel it's about to tip you over the edge, a visit to Barter Theatre's The Santaland Diaries is the perfect tonic.
In a groundbreaking essay, David Sedaris shared his true and surprising account of working as a department store elf in Macy's Santaland. In this adaptation for the stage by Joe Mantello, the story serves up an altogether unique holiday celebration.
As a fresh and struggling New Yorker whose career prospects are bleak, David reluctantly joins the throng of desperate adults embracing Elfdom just to make ends meet. Donning a uniform that boasts pointy shoes and bells, he adopts the moniker "Crumpet" and sets about his tasks in a manufactured land of holiday cheer. But in the midst of an excruciatingly humiliating job that he hates, he learns a great deal about human nature.
His astute observations provide a plethora of stories to tell. A few are of his fellow elves – some flakey, some flirty, and some who speak in exclamation points. Some are of the Santas – who come in many stripes and colors, cleverly challenging the traditionalists in a game of political correctness. But most are of the kids – of ALL ages – who come seeking fulfillment of their hopes from the wizard in a red, fuzzy, fur-trimmed suit.
It is evident that director Richard Rose is in harmony with the unique Sedaris brand of humor and way of viewing the world. Guiding a beleaguered Santa's Helper to engage the audience in his world of struggle to a humorous yet ultimately poignant end is no small task. But it proves remarkably entertaining.
Rusty Allen is endearing as the crafty, imaginative Crumpet. He sets the tone from the top by addressing the audience with a series of silly riddles – probably ones Crumpet heard from various children encountered along his working path. He continues to entertain as he transforms from a regular guy, schlepping for a living in NYC, into a classic symbol of Christmas cheer. Before our eyes he dons elfin attire, designed by Alice Sullivan, complete with green velvet tunic, candy stripe tights, and an impish pointy hat.
Allen then proceeds to regale us with stories that prove truth is stranger than fiction when it comes to humans crazed with holiday fever. He is especially entertaining when Crumpet, striving to make the endless days more interesting, fields requests from Santa via unconventional methods. His Billie Holiday rendition of "Away in a Manger" is a particular winner.
For anyone who ever visited a department store Santa, Helen Stratakes and Derek Smith have created a nostalgic setting of Santa's lair that will surely conjure childhood memories. A huge red velvet throne takes center stage while the walls and floor are overrun with colorful toys and festively wrapped presents. Although it recalls the Christmas toy land typical of the 1960s, when the play premiered, we realize that settings for Santa visits have changed little over the years. This world of wonder where a magical wizard can make dreams come true is still relevant, and needed, today.
Tony Angelini's sound design completes the throwback feel. In-store announcements and music that underscore the speedily encroaching "big day" help create the chaos of customer desperation that Crumpet is forced to deal with, as well as his own wild imaginative diversions.
Holiday humor comes in a variety of shapes and sizes. David Sedaris offers a particular flavor that just might be the antidote to an overdose of tinsel, twinkling lights, and blaring holiday tunes. The Santaland Diaries allows you to take a break and replace those inner groans and frustrations with genuine chuckles and laughter.
Bonny Gable is a former theatre professor and freelance writer based in Bristol, Virginia.