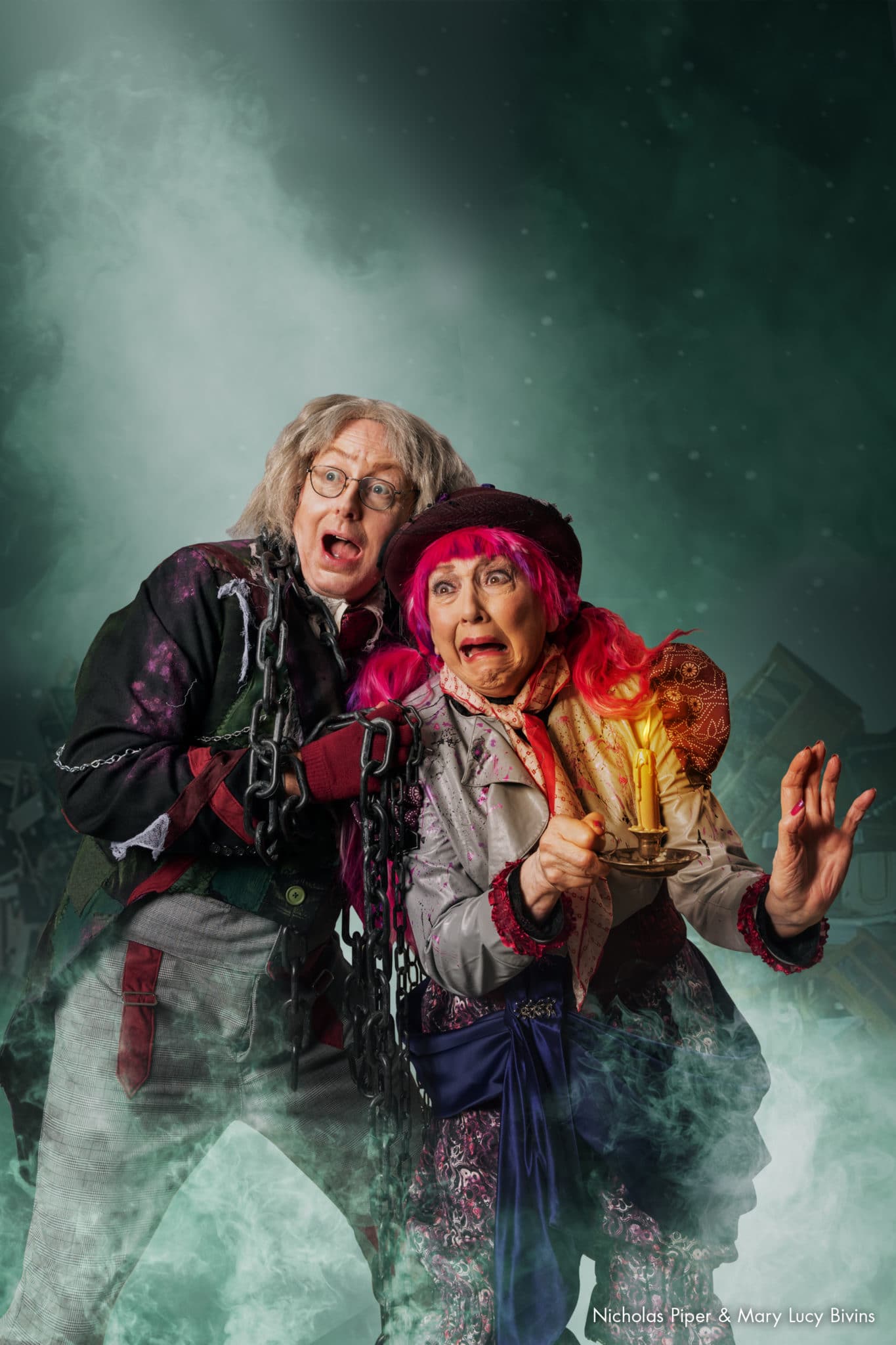 My wife family and I finally made it to the show we waited to see all year long at Barter Theatre. Tom Mula's Jacob Marley's Christmas Carol is the Christmas show that we saw several years ago that became one of our most favorite plays at the State Theater of Virginia. It is the brilliant tale of Jacob Marley, as conceived in 1843 by Charles Dickens in his classic A Christmas Carol, the work I consider the greatest piece of fiction ever written. Writing much in the style of Dickens himself, we learn not so much of the redemption of Ebenezer Scrooge, but the redemption of his deceased partner as well.
Played by Nick Piper, Marley must reprieve himself from an eternity in hell by convincing Scrooge to have a complete change of heart in his own mind. Michael Poisson was the star of the show years ago as Marley. He is an equally terrific Scrooge, stealing the show with his humorous sarcastic quips. We learn that the visitation in which we read from the Dickens novel took several tries. As a part of the spiritual world, Marley is able, with the help of his faithful Bogle, played by Mary Lucy Bivins, to stop and reverse time in order to win Scrooge over. If Marley does not do this within the time allotted, is abysmal eternal fate will be sealed. The bookkeeper is keeping track of him, played by Tricia Matthews. All characters are witty and performed in a more than respectable fashion, but it is the comic relief of Mary Lucy Bivins and Michael Poisson that steal the show. Bivins is as adorable and hilarious as ever as she makes her entrance climbing up through the floor and a vibrant pink wig an impish attitude to match her character. The story is narrated with dramatic effect by all 4 characters that is equal parts funny, creepy, and in every way riveting.
As a writer, it has always been a dream of mine to retell, in my own, way the story of A Christmas Carol. Many authors of tried witnessed from the countless tragic evidences of Hallmark-type movies, but to succeed as well as Tom Mula a rare and exciting product for audiences who love this timeless story and want answers not received from the original.
Going in, I was convinced that Michael Poisson on was irreplaceable as Jacob Marley after my wife and I saw him perform the role 4 years ago in the same play. He also performed as Jacob Marley in Charles Dickens's A Christmas Carol across the street at the main Barter stage.
However, by the time the second act began, Nick Piper more than proved himself as Jacob Marley and was even perhaps a better fit for the role, especially with Poisson playing Scrooge alongside him.
I have the privilege of speaking with the director of the play, Susanne Boule, during intermission. She told me that she had directed the show four years ago when we saw it, but she had no control over who was cast in which role. The only staple was that Mary Lucy Bivins must play the Bogle. I think anyone who has ever seen that play would immediately understand that that goes without questioning. Her pure cockney accent and wildly vibrant costume make her the only person who could ever fulfill such a role.
Tom Mula story offers an unprecedented look into the life of Jacob Marley, including his self-proclaimed "Dickensian childhood" that is perhaps even more tragic then that of his partner. Being born to an alcoholic father and discarded abusively when his mother passed away by being sent to boarding school and living a friendless life as an apprentice to Old Fezziwig and then joining Ebenezer Scrooge in their own partnership, we learn that Scrooge and Marley, at least in this version of their story, were not so much friends as suspicious rivals. They teamed up with one another so as not to be bested by the other. Whereas Dickens portrayed the characters as each other's only friend, Mula suggest that Marley may have been just as much a counterpart of the original author as Ebenezer Scrooge had been.  Dickens's own tragic life shows similarities between himself and all his characters.
Either way, this play is unlike any other that you will witness at any time of the year, will take you on a roller coaster ride of emotions. You will be holding your sides, sore from laughter, in one moment and sobbing in grief the next. In the following instant, you will find yourself practically quivering with fear. In a mirror image of exactly the roller coaster ride that Dickens took millions of readers on across the world more than 170 years ago, Tom Mula does the same thing with Jacob Marley's Christmas Carol in just as touching a nature.
  The atmosphere of Stage II at Barter Theatre is perfect for this play. Your emotions are heightened as you feel as if you are actually a part of the action when the wind of the actors' strides tuft your own hair and the wicked laughter of the spirits is aimed directly at you or as you feel their garments brush against your foot when passing by.
Four years ago, we saw Trisha Matthews portray Scrooge among other roles while Carrie Smith Lewis also played a number of characters. I miss seeing Lewis and hope she is still a part of the Barter company, but I have to say that Tricia Matthews was much better suited for the roles of the bookkeeper the spirit world, a silent Cratchit, the alcoholic father of Jacob Marley and other various roles. Michael Poisson obviously made for a much better Scrooge, making this the best production for Barter in 2019.  You have until December 21st to see it and find out for yourself. Please do not miss out on this must-see production.