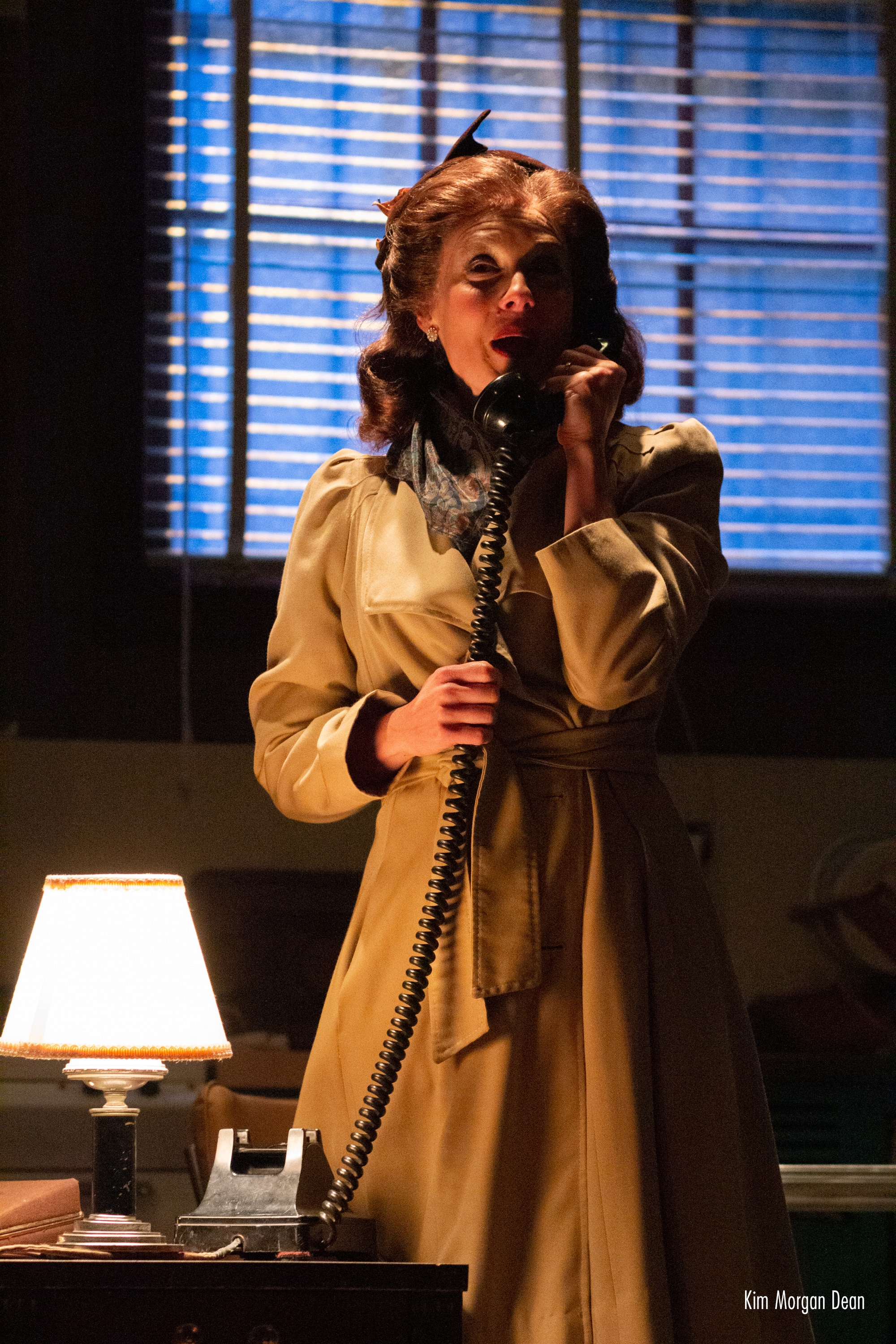 Review by Bonny Gable
As disturbing as it may be, the intrigue of something lurking in the dark is irresistible to the human psyche. That particular unknown incites terror, but also a thrill. The adrenaline rush of both in constant interplay surges throughout Barter Theatre's production of Wait Until Dark, fueling our craving for unexpected chills.
In this adaptation by Jeffrey Hatcher of Frederick Knott's 1966 classic thriller, we enter the frightening world of Susan Hendrix, a blind woman pursued by three strange men who have orchestrated a clever but threatening plot. Unbeknownst to Susan, something is hidden in her humble Greenwich Village basement apartment that the men want very badly; so badly they are ready to kill for it. She is caught in a trap, enveloped in darkness with no hope of any light to illuminate her escape.
Susan's own self-doubts prove as much an enemy as the villains who plague her. In their attempt to wear her down her tormentors play on those doubts, so she is threatened psychologically as well as physically. But in her heightened desperation she draws on other senses sharpened by her infirmity, discovering hidden strengths that she musters into service. While the men use both light and dark to help carry out their scheme, Susan reveals a cleverness of her own to commandeer the dark to her advantage.
Kim Morgan Dean presents a tour de force as the resilient Susan, creating a heroine that we root for whole-heartedly. Dean sensitively portrays her vulnerability, but also renders the determined and quick-witted woman who constantly amazes us by refusing to succumb to her limited resources.
Compelling performances by three talented actors provide the forces plotting against our heroine. Mr. Roat (Andrew Hampton Livingston), the evil mastermind of the scheme, is a cold-blooded killer so enamored with his favorite weapon that he lovingly names it "Geraldine." Carlino (Rick McVey) is the heartless fallen police detective with sticky fingers and a weakness for a bribe. He'll follow any command from Roat, as long as there is payoff. Mike (Justin Tyler Lewis) is the pretty boy decoy. When he employs the affable army buddy persona, his brand of trickery is difficult for a kind heart to resist. This trio of antagonists create a formidable team with which Susan must tangle.
The unpredictable action that mounts in fickle shrouds of light and dark keeps you guessing until the end. Each moment has been crafted under the careful direction of Katy Brown, the pieces of this harrowing jigsaw puzzle falling into place and leading to the exciting conclusion.
Punctuating the battle of wills are several breath-taking physical struggles created by Fight Choreographer Jake Dailey. The scenes demand moves that work within the confines of tight spaces and constant shadow play, a unique challenge that Dailey has accomplished with finesse and the actors execute with convincing skill.
Lighting design by Andrew Morehouse achieves the eerie lights and shadows that play on Derek Smith's set design, a 1940s basement apartment that has seen better days, providing only the bare essentials. This spare space highlights the incongruity of a simple, innocent person caught up in a dangerous crime scene. The reminder that anyone's home could become a trap adds an extra element of terror.
To be surrounded by darkness, faced with phantoms that become real, is a scary scenario that requires tremendous bravery to conquer. Would we have what it takes survive? For a couple of hours we can walk in Susan's shoes and ponder that spine-tingling question.
Bonny Gable is a former theatre professor and freelance writer based in Bristol, Virginia.